MDQ MINING APPLICATION
MDQ is an Upcoming Meta Game Exchange Token & Platform.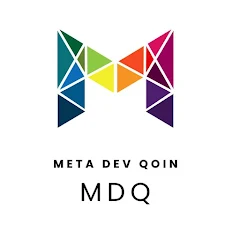 MetaDev Mining Application & MetaDev Public Org.
We are a public private organisation working for meta game & token for a better vision
FOR THE PEOPLE
BY THE PEOPLE
TO THE PEOPLE
First Release:

19 September 2022

Website:

mdqoin.in
Roadmap Release:

1 Jan 2023

Upcoming Event:

Roadmap & Vision Analysis
---
Like Other AAA Games Provides Virtual currency, MDQ Will act as a
Meta Exchange
---
Like the other tokens ,After listing MDQ will Also be used as
trade & exchange
.
---
Unlimited Support
Contrary to popular belief, we are available 24x7 for Support.
Some Counters
Here is our Community
Roadmap
Here You Can Find Out the Small Aims & the Biggest Revolution Sights.
MDQ Exchange
Beginning of MetaDevQoin Gaming Collabs ,Trades & Exchange
2022-Now
Web3.0 Blockchain Secured transaction as principle of upcoming MDQ Exchanges in Gaming ERA & Exchange field
Registration
Domain & Organisation Registration
15 August 2022
Official Registration of MetaDev Organisation
Registartion
15 August 2022
Checkout Full RoadMap >>>
Basics
MDQ Mining is a Mining Application of MetaDev Org Project For MetaDevQoin.
Reviews
Tony G
MDQ Miner
This is a good free crypto project. The community is very active, and the developers are active as well. You can withdraw this coin, and it is a real crypto.
Abdul Mohammad
MDQ Miner
Excellent application. Team is very professional. Withdrawal is on time in wallet.
Von Alquiza
MDQ Miner
Great project with great service support. MDQ to the moon! 🚀🚀🚀🚀🚀
VENUS EDUTECH
MDQ Miner
Excellent App for Cloud Mining. Proudly a MDQ Miner.
Hasina Begum
MDQ Miner
Good MDQ MINING APP.